Welcome to Pacific Massage Therapy Clinic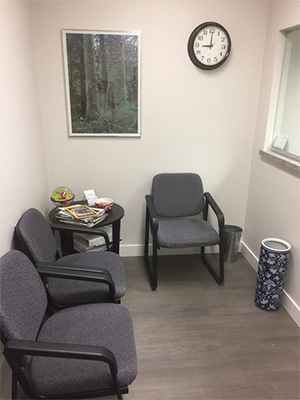 Pacific Massage Therapy Clinic located in Vancouver BC and is the home to experienced Registered Massage Therapists (RMT), most of whom have worked together for many years. For over 25 years the therapists at Pacific massage therapy clinic have been dedicated to relieving pain and enhancing health and well-being. Our therapists are highly trained in assessment and treatment procedures. They use a combination of techniques to treat both musculoskeletal pain and dysfunction and relieve stress promoting relaxation.
Our Location
We are situated at 750 West Broadway, Suite 718. We are located in the Fairmont Medical Building, between Heather and Willow Streets on Broadway.
Street parking is available and there are many parkades in the neighbourhood. Our building has a parkade with meter parking.
The clinic is open Monday to Saturday from 8am to 7pm.
We accept coverage for Extended plans, ICBC, MSP, RCMP, and DVA 
Covid-19 Company Update
Pacific Massage Therapy and Physiotherapy Clinics will be re-opening slowly and carefully after May 19.  There will be very different protocols for attending the clinic, screening for risk factors, discussing risk assessment prior to treatment, managing flow through the areas, and of course, much enhanced cleaning.  Prior to appointments, therapists will be sending detailed emails to patients with info necessary to having this gradual re-opening be safe for all.  Thank you and stay safe!
Booking
To Book with Teresa Koelewyn, RMT
Click on the "Book Now" button or you can still make appointments by phone during office hours at (604) 872-1818.
General email inquires: pacificmassagetherapyclinic@gmail.com
To book with Suzanne Vetterli, RMT, please phone: (604) 872-1818.
To Book with Anu Lima, Physiotherapist
Click on the "Book Now" button or you can still make appointments by phone during office hours at (604) 872-1818.

Physiotherapy Hours
Monday to Saturday 8am - 7pm
RMT Rates
| | | |
| --- | --- | --- |
| Initial Treatment 35-40 min | | $80.00 |
| 30 min | | $70.00 |
| 45 min | | $95.00 |
| 60 min | | $120.00 |
| 90 min | | $170.00 |
| MSP | | $30.00 |
ICBC treatments are 45 minutes with a $10.00 fee
OUR REGISTERED MASSAGE THERAPISTS CAN TREAT A WIDE RANGE OF CONDITIONS SUCH AS:
Sciatica
Bursitis
Low Back Pain
Scoliosis
Arthritis
Headaches
Postural Deformities
Athletic Injuries
Fibromyalgia
Frozen Shoulder
Gout
Whiplash
Stress Related Disorders
Muscle Tension / Spasm
Tendonitis
Plantar Fasciitis