Welcome to Pacific Massage Therapy Clinic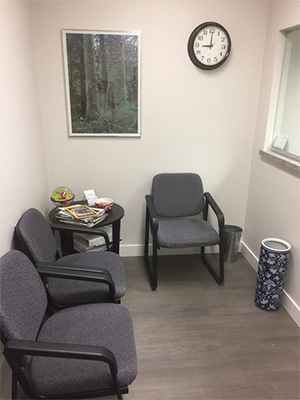 Pacific Massage Therapy Clinic located in Vancouver BC and is the home to experienced Registered Massage Therapists (RMT), most of whom have worked together for many years. For over 25 years the therapists at Pacific massage therapy clinic have been dedicated to relieving pain and enhancing health and well-being. Our therapists are highly trained in assessment and treatment procedures. They use a combination of techniques to treat both musculoskeletal pain and dysfunction and relieve stress promoting relaxation.
Our Rates
| | | |
| --- | --- | --- |
| Initial Treatment 35-40 min | | $75.00 |
| 30 min | | $65.00 |
| 45 min | | $90.00 |
| 60 min | | $115.00 |
| 90 min | | $165.00 |
Our Location
We are situated at 745 West Broadway, Suite 301. We are located in the Tam Dental Medical building, just west of Heather Street on Broadway, next to the Holiday Inn.
The clinic is open Monday to Saturday from 8am to 7pm.
We accept coverage for Extended plans, ICBC, Worksafe BC, MSP, RCMP, and DVA
Street parking is available and there are many parkades in the neighbourhood. Our favorite is a reasonably priced pay parking lot just east of Heather on 8th Avenue.
Booking
You can book and manage your appointments online from anywhere, at any time on any internet connected device!
Simply click on the "Book Now" button and follow the prompts. For those who prefer, we will continue to take appointments by phone during office hours at (604) 872-1818.
Lionel Webb, RMT, Teresa Koelewyn, RMT and Anu Lima, Physiotherapist are available for online booking.
To book with Darcel Lum-Tompkins and Suzanne Vetterli please phone in.
We now have a Physiotherapist
Make your appointment today!
Hours & Location
Monday to Saturday 8am - 7pm
745 West Broadway, Suite 301
Vancouver, BC
Email: pacificmassagetherapyclinic@gmail.com
Tel. 604 872 1818
OUR REGISTERED MASSAGE THERAPISTS CAN TREAT A WIDE RANGE OF CONDITIONS SUCH AS:
Sciatica
Bursitis
Low Back Pain
Scoliosis
Arthritis
Headaches
Postural Deformities
Athletic Injuries
Fibromyalgia
Frozen Shoulder
Gout
Whiplash
Stress Related Disorders
Muscle Tension / Spasm
Tendonitis
Plantar Fasciitis